Description
Somehow when we think of Face Yoga, we focus only on the face.
Yes, a lot of women pay attention to their faces, but the neck is also a part of it.
The neck and jawline are somehow neglected. Often in passing, I see women whose face is quite well-groomed and often without wrinkles in relation to the neck and jawline.
The neck and jawline are quite forgotten.
I also noticed in myself that I had neglected this part of my body before. In the morning I would put the cream on my face, and the neck, only occasionally.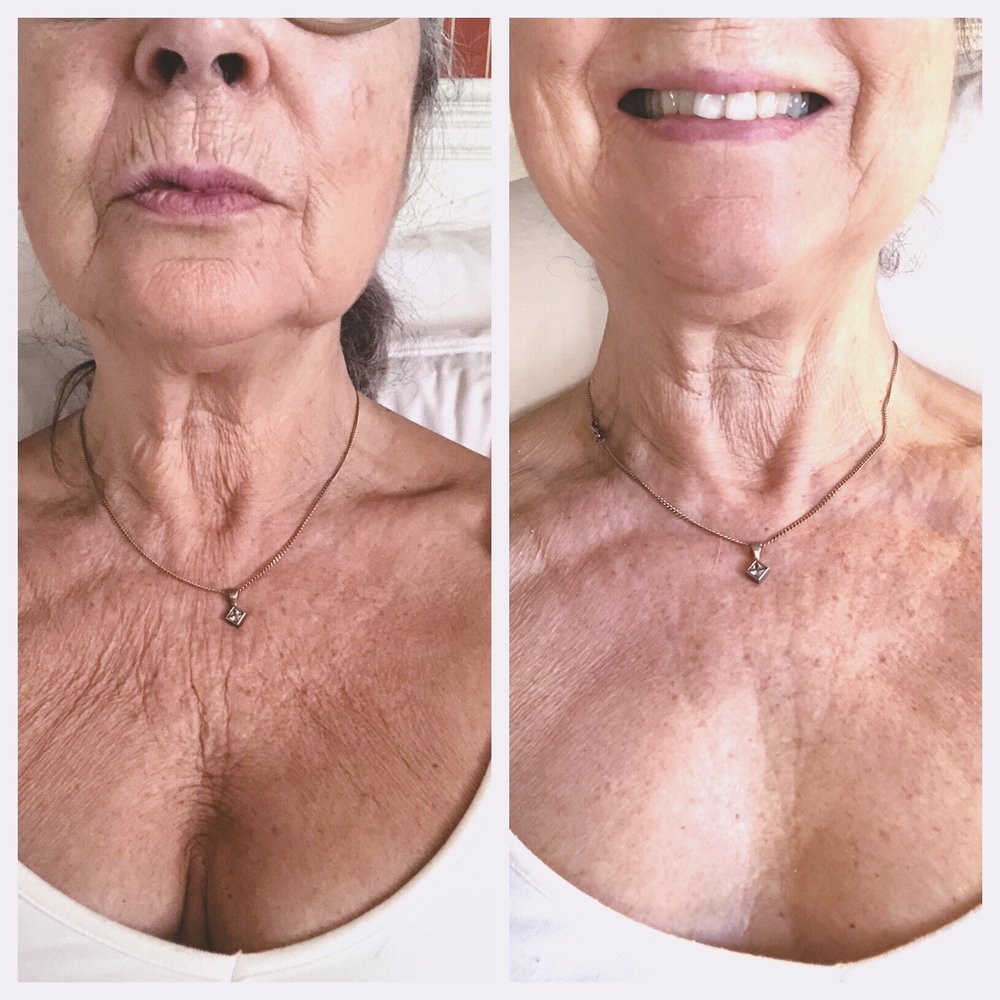 As I incorporated Face Yoga into my life, I changed my habits and introduced care, exercise, and massage.
So I regularly practice Face Yoga with which I have achieved great results !!!
Below I have listed some of the changes that can occur in the area of ​​the jawline and neck.
Goiter
Double chin
Deep lines in the neck
Deep lines in the area of ​​the décolleté
The contours of the jaw are lost
Snoring
Redness on the neck and décolleté
The corners of the lips are pulled down due to the weight of the neck (fat deposits)
Simply, after 30, due to muscle atrophy and adipose tissue movement, the face loses volume, and the skin under the chin relaxes.
Unfortunately, no creams or topical therapy can resolve the situation.
That's why you can prevent a double chin in time by starting neck and jawline exercises in time!
Also, in people who have already experienced these changes, they are reduced or completely eliminated by regular exercise!
In this module I offer you 9 exercises for the neck and jawline:
Swan's neck – hands-free
Swan neck – with hands
Neck & Jawline shaper – hands-free
Neck & Jawline shaper – with hands
Pulled tongue – hands-free
Pulled tongue – with hands
Double chin lift – hands-free
Double chin lift – with hands
Acupressure push under the ear
All of them together lift, tighten your skin, tighten the muscles. They stimulate the work of lymph, the blood flow.
Be someone who wants change, who needs it !!!
Dedicate yourself to this important part of your body !!!
Learn 9 exercises that will change your appearance, give you confidence !!!
Feel and look in line with your age !!!
Take at least 5 years off your neck!
Direct access for the duration of 28 days (4 weeks),
Access to online video lessons,
A program with all the tools you need to achieve results,By enrolling in one of the online courses I offer, you get a warm-up exercise as a gift, and a Bonus – Facial Care!After starting the course, it is available to you for the next 28 daysDuring this period, you can watch online lectures an unlimited number of times, all 28 days.
Each course contains:
• text with a description of the exercise
• video material
• gift – warm-up exercises
• gift – facial careFacial care is equally important after facial exercises. In facial care, I included several masks, how to make face cream, face mist, face scrub. Lip balm.All ingredients are natural, chemical-free, and have a fantastic scent!You will be able to make this yourself at home!
And the most important thing is that all the ingredients are available, simple, and cheap to make!
My experience is that my children can no longer do without the face cream.
They like to use it for their hands, for their body, and even for their lips, especially in the winter.
One of my sons has extremely dry skin and this cream helps him fight cracked skin.
Restore the freshness of your skin and give youthful look!!!