Before and After Face Yoga Information
It can be quite a daunting task to do research on the internet about Face Yoga, and finding before and after information that show the benefits of facial exercises. On this page I will dive into the facial yoga before and after pictures. I often get questions about Face Yoga such as:
Does Face Yoga Work?
What kind of Face Yoga exercises do I need to do?
Do you have any pictures that show results?
And so on....
So let's dive into the part where I show and answer your questions about Face Yoga by providing you before and after information.
Before Face Yoga
There was a world I lived in before I knew about Face Yoga, and now that I know Face Yoga and consistent do exercises I can see the results. The results are many but let me start by summarizing the obvious. There are short terms results of Face Yoga and long term results from Face Yoga. And the results may vary per person for a variety of reasons. There are: age, expectation, diet, climate, frequency of doing Face Yoga exercises and so on. You can compare Face Yoga with a sport as it involves facial muscles. Face Yoga lets you train your facial muscles and by doing that they become stronger, fitter, have a better bloodflow etc. And we are built in such a way by mother nature that if we move and become active our body adjusts to that! Either way, doing Face Yoga exercises will change your lifestyle and you will not feel the same after incorporating the Face Yoga lifestyle in you daily life. Once you start toning and exercising your facial muscles you will feel different. So you will work on yourself by practicing Face Yoga from the inside and the outside.
Face Yoga works and with consistent exercise you can see the results. On this page I provide some before & after pictures of people that exercised according to the Face Yoga Method by Fumiko Takatsu, which I consider to be the most reliable method out there.
My own before and after
Down below you can find some of my own personal before & after pictures. I started this journey in 2017 as I was struggling with my health and diets. After visiting all kinds of alternative health practitioners I realized it was time to start listening to my own body. Because even after diets and detoxes I didn't like the way I was looking. I lost all the fat in my face, and volume in my cheeks. Not a good thing!
You can read more about my whole story here. But, as you can see on the pictures below I fell in love with Face Yoga. So after doing the exercises myself for some time I decided to spread the love and became a Face Yoga Method teacher! Check out my Instagram page for more picture and stay tuned as I put more before & after pictures here!
Does Face Work?
For me it does and I think it works for everybody regardless your age. I am a mother of three sons and as many women out there beauty is an important thing for me. Now, I am all into natural beauty, not the Botox and fillers. Even during the day I hardly use any makeup and I never use any foundation creams for the simple reason that it does actually more damage then it does good except the natural ones.
How to relax your face muscles?
As you can see on the picture above my muscles in my face are more relaxed. By exercising face yoga daily my muscles have become more toned, relaxed, tightened, and I feel better overall then I did before I entered into the world of Face Yoga! Want to learn how? Signup for the online Face Yoga Video Course!
You can see more pictures and videos of my Face Yoga Before and After on my Youtube Channel, Facebook page or Instagram Account. I also put discounts and coupons there!
Down below I have put some more before and after pictures of Face Yoga clients. These clients are both my own and some of them are from Fumiko Takatsu to showcase that Face Yoga does work! These ladies have done daily face yoga exercises and managed to tighten their facial muscles and I consider them to be Face Yoga Transformations.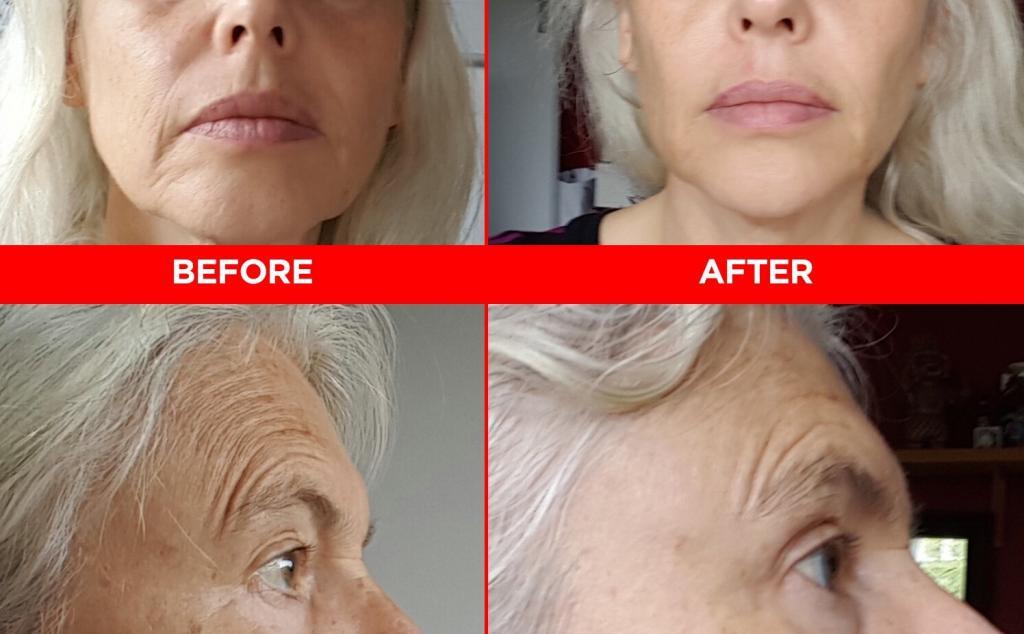 Ann-Marie
Here is one of the great examples of amazing changes I saw on Ann-Marie from France. She is 56 years old and she noticed her wrinkles became more visible over the last few years. She is very conscious about foods and she eats very healthy. Besides a healthy diets she had an overall healthy lifestyle and she enjoyed taking care of herself. This eventually lead her to the Face Yoga Method community where she joined. She is a very dedicated Face Yoga Method practitioner and she did the poses 5 times a day for about 8 weeks to achieve the results you see in this picture. Here are the before & after photos of her. As you can see on these photos her face line is much more defined and lifter then before. And her forehead area, especially above the eyebrow, has much fewer wrinkles then before. I am very delighted to see the results of her hard work.
Face Yoga before & after pictures
These pictures below show the before & after pictures of Face Yoga students. As you can see the results start to really show after 2 weeks of exercises and you in case Shiho dedication pays off. She looks confident and is very happy with the results.
As I mentioned before consistency is key. Down below you can see some before & after Face Yoga pictures of different women. All of these women have a routine to do 2-3 exercises per day over a period of at least several weeks. As you can see their faces have become more toned, they have less droopy eyelids and a slimmer face-line. By practicing your facial muscles your face will also look less puffy and you will smile more and feel more confident.
Facial Yoga Results
The pictures below show the facial yoga results of also my clients after one and longer. As with everything consistency is key. Your body will undergo a transformation. And this natural facelift make you look younger. The pictures also show you how to take your own before and after pictures for Face Yoga.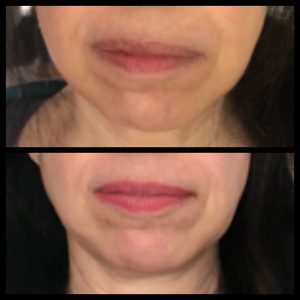 So do you think Face Yoga is something for you? I think Face Yoga is the best way for women all over the globe to work on their beauty and health on a complete natural way without spending a lot of money. Face Yoga is fun to do, and I compare it sporting. You feel better straight away and when you complete your daily exercises you feel and look better.
When I look at myself I can proudly say that Face Yoga works. I practice Face Yoga every day and it transformed my life. So what do you think? Did you get enough Before and After Face Yoga pictures? Do bookmark this page as I intend to update it with more pictures as time goes along.
And before you ask, yes Face Yoga is also something men should do.
These pictures are provided by the courtesy of Face Yoga Method by Fumiko Takatsu and myself and may not be reproduced without our written permission.