FACE YOGA IS A COMPLETELY NATURAL ALTERNATIVE TO ANTI-AGING REMEDIES. BY PRACTICING A SERIES OF FACIAL EXERCISES YOU CAN LEARN TO TONE THE MUSCLES BENEATH THE FACIAL SKIN AND INCREASE FACIAL CIRCULATION AND BLOOD FLOW WHICH RESULTS IN A MORE YOUTHFUL AND RADIANT COMPLEXION.
Facial exercises help middle-aged women appear more youthful
20 weeks of facial exercises yielded firmer skin, fuller upper and lower cheeks
"… individuals now have a low-cost, non-toxic way for looking younger or to augment other cosmetic or anti-aging treatments they may be seeking."
Take the best care of your face by booking an individual session of 60 minutes. An individual session is possible via Skype or in real life depending on your needs.

Once we get in contact you can fill in the intake form. You will receive an online account by which you can track your progress and signup for package sessions!
Do you wish to have a fun time in a group with friends or like minded people? Then group lessons are just for you. Together we make sure you do the correct poses and that you stay motivated. 
Group sessions vary between 3-15 people. Submit the intake form so we can plan a group session.
My name is Viktorija (Viki) Oudman and I am originally from Serbia. Currently I am living with my family in the Netherlands. After finishing my degree for becoming a veterinary assistant I quickly embarked in a career in modelling and journalism. And like many of you experience time flies by, I got married had kids, and one day you realize you're not that young anymore, but you still want to look & feel great!
And this is possible with the Face Yoga Method of Fumiko Takatsu. I am a certified Face Yoga Teacher since May 2018 after practicing Face Yoga for over year myself. I am thrilled and excited to work with you in looking young and beautiful again without all those expense creams, Botox and fillers. Let's work together to fight the effects of aging on a natural way.
Lets feel beautiful, live beautiful, stay beautiful!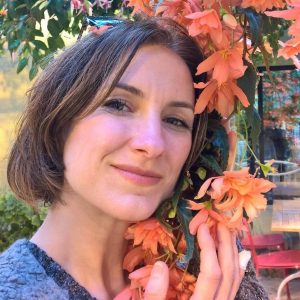 Do you have questions regarding the classes or do you wish to schedule a lesson? Just fill in the form below and I will contact you as soon as possible.
Face yoga is a completely natural alternative to anti-aging remedies. By practicing a series of facial exercises you can learn to tone the muscles beneath the facial skin and increase facial circulation and blood flow which results in a more youthful and radiant complexion.