Still look beautiful despite restrictions
Before the Corona Virus pandemic we you could go out to a spa, beauty saloon, sport school and work on yourself without restrictions. Despite these restrictions you don't need to despair! You can still look beautiful and work on yourself from the comfort of you home.
Face Yoga offers you the self caring treatment you need to look and feel beautiful. By moving your facial muscles. By doing daily facial exercises you activate your blood flow and remove toxins from your skin and underneath. We know from our body muscles that when we are working out, muscles become tight, we look better, we feel beautiful! The same is with Face Yoga, except, face muscles are thinner and they need different approach.
Let me explain to you how you can do these different exercises for every part of you face with just a couple of minutes. And lets be honest, you have all the time to spare now!
The eye area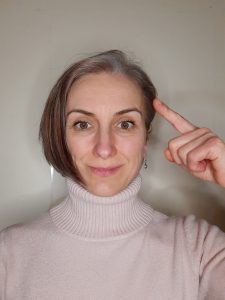 For example, if you want to work on your eyes area, you also need to work on forehead area, otherwise you will not create the wishing results. You can achieve this with two simple exercises that take about 4 minutes. And consistency is key here, once you start and continue for about two weeks you will see the results. But you will feel the results already after the first time you do the exercises 😉
This is a perfect time to start doing Face Yoga. Because of all restrictions, people all over the world are doing sport at home. Why not Face Yoga as well, especially because we can't go to beautician. Corona Virus is not allowing us to touch each other, but we can touch our own face!
Boost your self treatment with these health tips
You can boost the effectiveness of these Face Yoga exercises with some very simple health routines. They will help you feel beautiful. I teach these in every class I give.
Tip 1: Drink enough water, I can't stress this enough. Water is essential when it comes to the proper function of our cells, and you have a lot of them so drink enough water! Just by looking into someone's face I can see that that person is not drinking enough. Water is essential for proper immunity, our kidneys need it to flash all the toxins, our blood to. Think next time when you think that you are hungry. you should ask yourself, am I really hungry, or I need first to get a glass of water. We need to change our habits and get a proper hydration.
Tip 2: Eat a fresh homemade salad or smoothie. And while you are at it add some love of mother nature by adding plants that you can find all around you for free. You'd be amazed what you see every day and the health benefits it give. Some of the plants that you can add to your salad and smoothie are:
nettle; very rich in protein and minerals such as calcium and iron etc.
lemon & orange peel; one word bioflavonoids
spinach; anti-inflammatory and beneficial for your bloodpressure and muscles, so Popeye wasn't kidding,
red clover blossom; good for protein and beneficial because it contains 4 phytoestrogens. It's good for your hormones,
How to start with Face Yoga?
I offer private Skype sessions for Face Yoga so it doesn't matter where you are. A normal session is one hour and we start from the beginning and follow your pace. I am here to coach you and to give you the assistance you need in order to achieve a more radiant, young and energized look! Just register an account and select the 1-on-1 lessons and I will contact you for an appointment!
I will also soon start online pre-recorded courses. These will be available soon and you can do Face Yoga whenever, wherever you want by just simply logging in. If you are interested in this just signup my newsletter and you will receive and email with a coupon for when the first online lessons become available.
So don't let this stupid virus, or anything else for that matter, hold you down and start straight away!